Welcome to District 43: Where Leaders Are Made
Serving Arkansas, North Mississippi, and Western Tennessee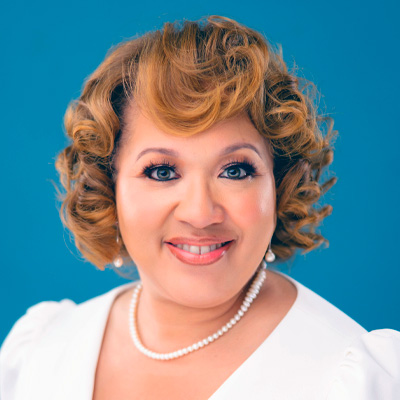 District Director Greetings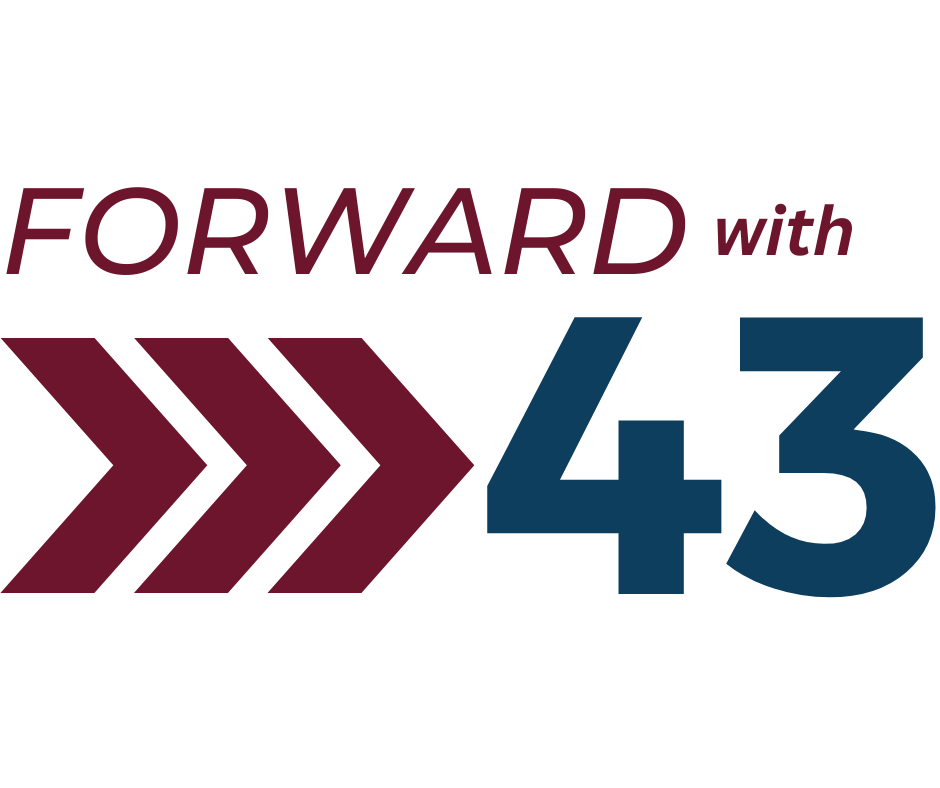 SEPTEMBER 2023
The Trio had the opportunity to attend the 2023 International Convention in the Bahamas. We are inspired and motivated to lead the district to Smedley Distinguished. We expect great things this program year.  As your DD, I invite all District 43 members to join us in 2024 as we walk across the stage in Anaheim, California to claim our award!
This program year, we will have some ambitious goals that will enhance the member experience:
Robust Public Relations and Communication Plan that will recognize members and club achievements.  In addition, we will utilize Social media platforms and leverage our district website.
Build Sustainable Clubs that will lead to exceptional club quality.  We are looking to increase the number of clubs with 20 or more members.  Currently, we have 32 clubs with more than 20 or more members. I would like us to increase that number to 40 by the end of the year.
Build a pipeline to leadership in District 43.  Afterall, Toastmasters is "Where Leaders are made", we need a sustainable pipeline to continue to keep District 43 current with the progression of the organization.  We would like to see all Area Director roles filled by February so that the incoming team will have an opportunity to shadow the current Area Directors.  This will make the responsibilities simplified and 6 months to learn the role.
Increase participation in Members Matter Monthly Meetup.  We offer great opportunities for members to network as well as develop and grow.
We have work to do, but together, we can make it happen.  I am asking that you commit to attending at least one Members Matter Monthly Meetup, recruiting at least one new member, completing at least one level in pathways, and move into leadership in your club or in the district.
When we all work together, we will grow together.  Many hands make light work.  I look forward to celebrating your accomplishments this program year!!!!
Sincerely,
Jackie Houser
District 43 Director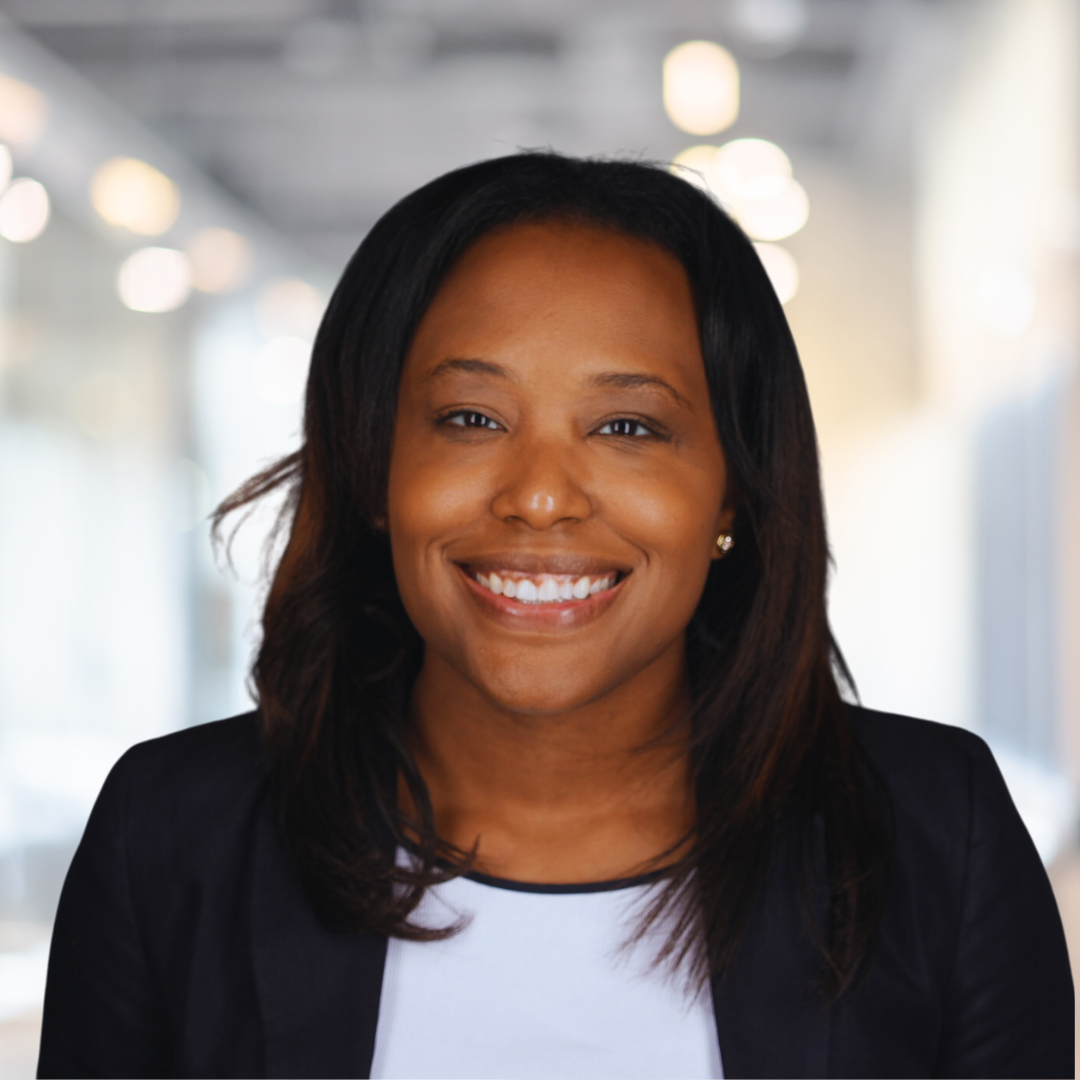 My Fellow District 43 Toastmasters,
I am excited about the opportunity to serve as the Public Relations Manager for the 2023-2024 year. More importantly, I am prepared and ready to do the work that it takes to support our executive leaders and all members in elevating District 43 as we strive for success, significance and sustainability.
I have been in Toastmasters for eleven years. My current membership belongs to Bluff City Toastmasters in Memphis, Tennessee. I am a native Memphian and work as a public safety supervisor at a 9-1-1 center. I am passionate about the benefits of Toastmasters and attribute much of my development and growth as a professional, leader, speaker and instructor to my continued involvement in this organization.  My theme as VPM is "Quality over Quantity". My school of thought is that if we focus on being a quality club and holding quality meetings, we will attract quality members.  My club remains President's Distinguished and continues to record membership of 20+, proving that you don't have to sacrifice quality to achieve quantity.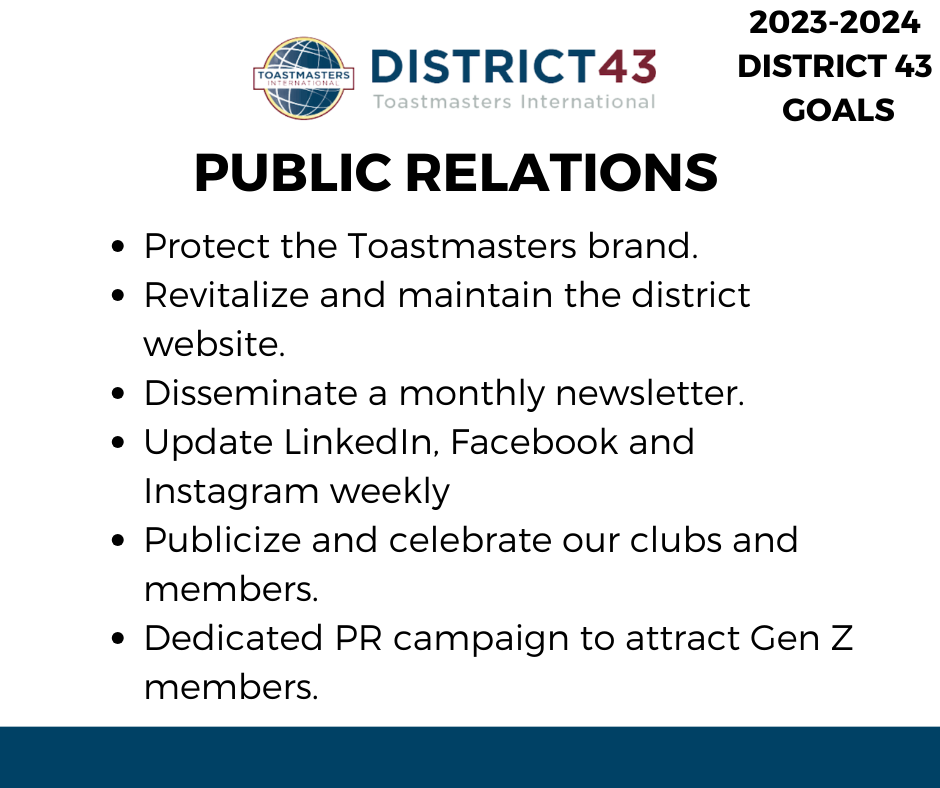 I share my goals with you because I will need your help and I want you to hold me accountable.
Website Maintenance: I am committed to maintaining an aesthetic, robust and resourceful District website that will feature district news, as well as club and member spotlights. This will be updated monthly at a minimum.  You can help by sending content that can be featured. Look out for a resource guide that will have all the information for submission guidelines.
LinkedIn Revamp:  Toastmasters is a professional organization, and we must prioritize a substantial LinkedIn presence. The District 43 LinkedIn page will be updated weekly and will complement the website.  This will also be where you can find our monthly newsletter. You can help by following the page when it is introduced and engaging with the content.
Generation Z Recruitment: District 43 must be intentional about recruiting younger members. The last two district conferences I have attended, I have been the youngest member there and I am approaching 40. We will have a year-long "30 Under 30 Campaign" with the goal of obtaining at least 30 new members under the age of 30. Additionally, we will identify our current members under the age of 30 and give them an opportunity to get more involved. We will have a dedicated page on the website spotlighting the active members.  You can help by telling the young adults in your life about the benefits of Toastmasters. Maybe we need to start a club for those who aspire to be "influencers".  I am committed to sponsoring a young adult myself to support this initiative.
Cohesive and Consistent Social Media Presence:  I am committed to working with our public relations team to build and increase our audience on LinkedIn, Facebook, TikTok and Instagram. We plan to post on each platform weekly.  You can help by engaging with us on the platforms you use and sending us content that you think is relevant.
Please share your successes so we can amplify it. It's not just a theme for our monthly Zoom meeting, members really do matter. I am here to serve all members of District 43. I want to spotlight the amazing things our members and clubs are accomplishing and make sure you receive pertinent information as soon as possible. Incentivize a young person to not just join a club but complete a path. They will be better for it and so will our district.  There is work to be done… let's do it together!
Erica May
District 43 Public Relations Manager
The PR team is working hard to keep D43 members informed, inspired and engaged.
Overview of Toastmasters International
"Before I joined Toastmasters, I had a plan but no vision for my professional career. Toastmasters International has empowered me to create my vision and help others to create their visions too."
"I'll keep learning. I'll stay relevant. I'll make connections. Toastmasters to me is a family like no other."
"I joined Toastmasters to help me sharpen my presentation skills for work."